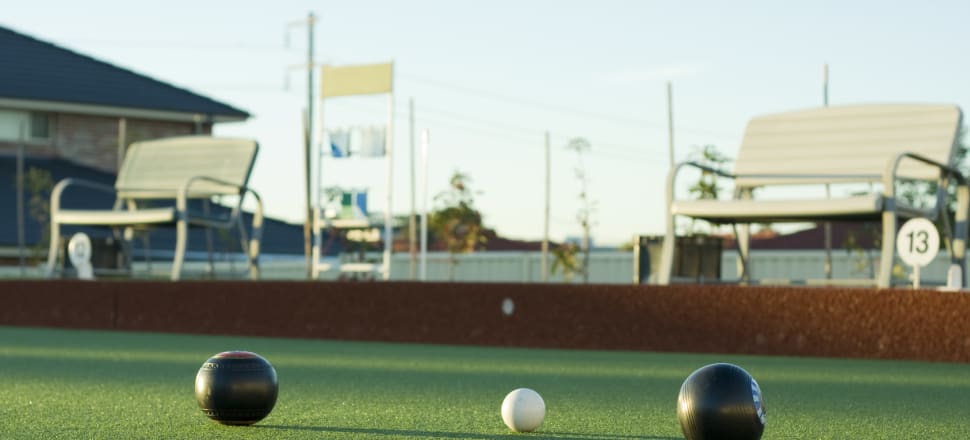 5370537724001
Club Mulwala Indoor Bowls
Results for Monday night July 1 – Winners with 32 pts were Joye Bruce – Judi Cummins – Fran Smith – Lyn Ryan. Runners Up with 21pts were Noel Owen – Lynne Harmer – Wilf Owen – Chris Liberg.
Thursday, July 4 – Winners with a win and a draw on 27pts were Reg Bryce – Marg Hill – Wilf Owen – Kay Ellis. Runner Up with a win and a draw on 25pts were Barb Eberle – Anne McKain – Geoff Charlwood.
A reminder the gala day tournament is Sunday, July 14.
We are very happy to report Holmesy is home and progressing well – that well he can't wait to get out kicking the football or playing golf with his mates.
YMGCR Bowls
Wednesday, July 3 - There were 36 players. Winners were Digger Smith and Betty Richmond with +19. Runners up were Ian Morffew and Peter Tudor with + 13. Jackpot of $76 was not claimed.
In the lucky number the winner was Ross Lloyd with 40.
Sunday, July 7 - 16 players were all lucky not to get too wet. Winners were Ray Brown and Linda Atkins with + 2 on count back from Ian Morffew and Ian Currie.Runners up were Greg Fisher and Norm Windebank + 3.
Ian Cummings and Betty Richmond won the $16 jackpot.
Great to see Anne Miles coaching a new player during the week while the sun was shining.
Club Mulwala Outdoor Bowls
Another great start to the week with fine weather and good bowls.
Social
Tuesday, July 2 saw a growing number of bowlers, including members and visitors on the green.
Once again good Yarrawonga autumn conditions for the afternoon play.
Some very good teams were drawn which meant very competitive bowls.
Winners on the day were Jack Jarden and Marg Pretty. Runners up were Sam Smith and visitor Laurie Cameron.
Well done to all bowlers and thanks to Jan and Nola for their hard work.
The jackpot did not go off.
Remember Social bowls are on each Tuesday at 12.30pm. Sheets are on the notice board behind the escalators, format will always be determined by the number of bowlers on the day.
Visitors and single entries are always welcome.
Sunday, July 7 saw VRI once again join us on the green.
This was a morning of social bowls with no winners or losers, just a fun game of bowls with a group of bowlers from VRI who visit each year and club members.
Sheet is on the board for next week, remember bowls begin at 12.30pm.
Names in by 11.00am please, 2-4-2 nominate your team, however single entries are also accepted.
Pennant
We know the season is still a long way away, however forward planning is underway.
Lists are on the board for those members wishing to play pennant to put their names down.
Membership
Membership renewals are on the way to you, please fill in the form and return to reception with your payment in an envelope addressed to David King Outdoor Bowls.
Yarrawonga Bowls
Not a lot of news at the moment.
We have been lucky enough with the weather to still play our social bowls.
We are not getting big numbers of course, but the ones that come along each week to support us are enjoying the bowling and social interaction.
Thank you to all.
Social Bowls results
Monday, July 1 - Winners – N Hocking and E Murdoch. Runners Up – C Gentle and R Jeffcott. The Jackpot was claimed by D Boothey and M Oakes.
Wednesday, July 3 - Winners – J Barnes, M Essex and J Ellis. Runners Up – R Neilson, F Liberg and I Woods. The Jackpot was not claimed and will be carried forward to next Wednesday.
Saturday, July 6 - Winners – V Kennedy, F Brown, S Maddox and W Jessup. Runners Up – J Binental, G Pardy and J Ellis. The Jackpot was not claimed and will be carried forward to next Saturday.
This week's games – Wednesday, July 10 - Jackpot Triples (numbers permitting), Saturday, July 13 – Social, Monday, July 15 - 2-4-2.
All these games start at 12.30pm and names need to be down by 11am on the day.
To any members that are not well at the moment, we wish you a speedy recovery.
To all, good health, good bowling and good fellowship.