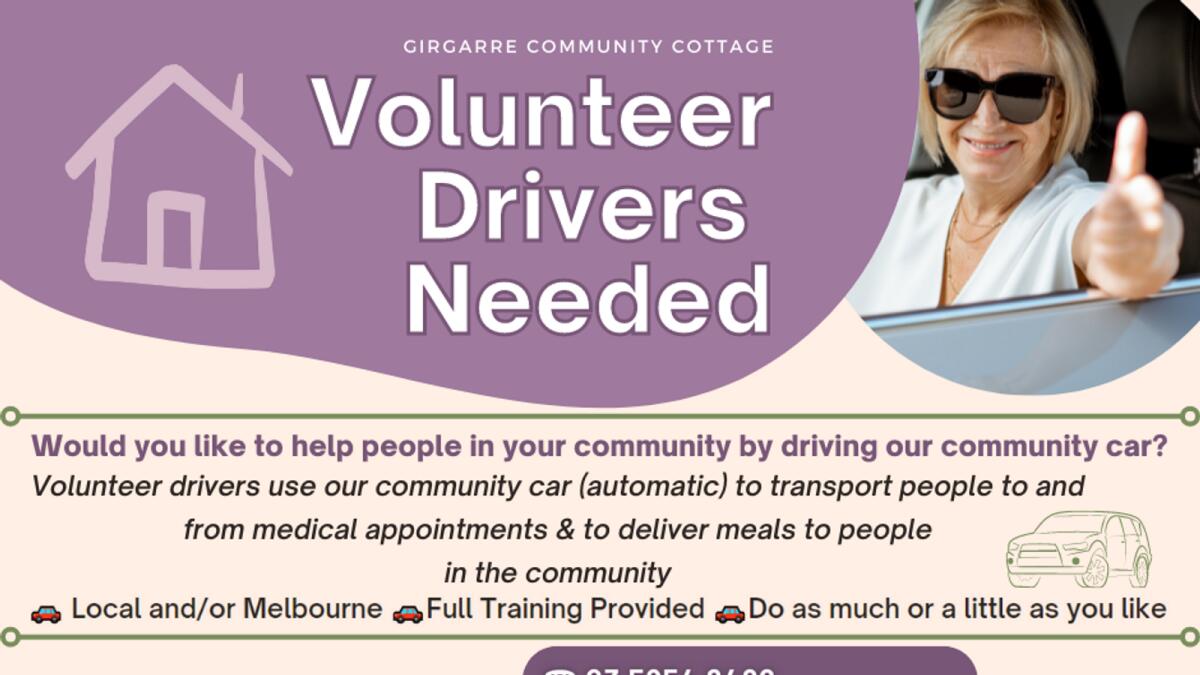 A lack of volunteer drivers is threatening to impact the transport services offered to the Campaspe region by Girgarre Community Cottage.
Cottage co-ordinator Kezia Talbot said the cottage was down to three drivers, due to a significant drop off after the COVID-19 period and a natural "ageing'' of its volunteer personnel.
She said the service had been impacted severely by the lockdown periods and last year had travelled only 15,000 kilometres.
"We did double that in 2019, when we did about 200 trips for the year," Ms Talbot said.
Ms Talbot said the service differed from other transport services because it offered people a Melbourne service.
"We are one of the few that travel to Melbourne and offer door-to-door service — from their home to the appointment.
"We even had quite a few of our drivers that would, if asked, attend the appointment with clients to help with communication," she said.
Ms Talbot said the cottage had 45 volunteers on its books, at its peak, including 15 drivers.
"The other 30 were involved in community food programs, community garden activities and other things we offer," she said.
"We tap into the passion of our volunteers, to fit them into the right program."
Ms Talbot said volunteers were mostly Girgarre people, with a sprinkling of Stanhope and some Kyabram people.
She said many volunteers had gone into their "COVID cocoon'' and had not come out.
"To be fair, many of our drivers had done some time with us and were very loyal.
"I am thinking it is time to recruit a younger demographic.
"Maybe parents who have children in school and can offer help during school hours. It may be one drive a week, a month, maybe even one drive a year," she said.
Despite the lack of volunteers the service has only had to turn two clients away, due to not being able facilitate drivers.
"If people are using our service they are in need, so saying no is just not an option," she said.
Girgarre Community Cottage is funded through the Department of Families and Fairness, with support from the Shire of Campaspe.
It started way back in 1984 and Ms Talbot has been in the role for six years.
To volunteer contact Ms Talbot on 5854 6482.