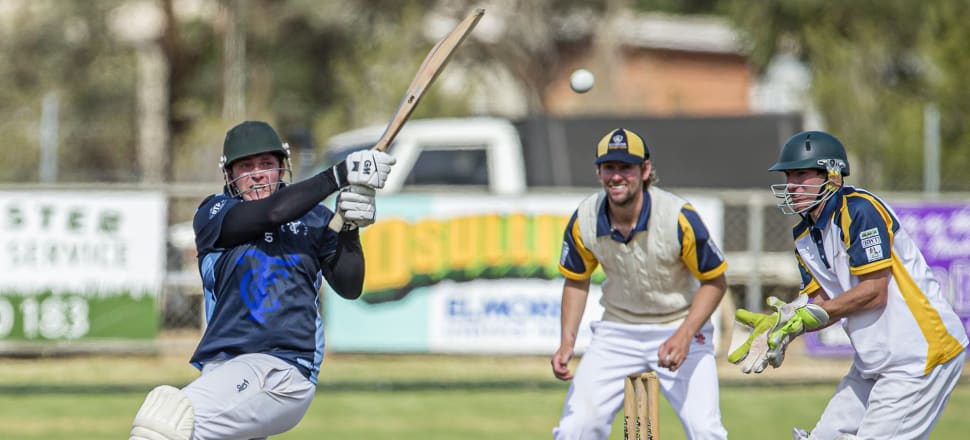 5370537724001
A century to coach Daniel Coombs highlighted a crushing win by Tongala over the previously undefeated Cooma when Goulburn Cricket's first two-day games for the season were completed on Saturday.
Resuming on 38 and his team at 1/72 needing only 27 to gain first-innings points, Coombs went on to make 103 in 234 minutes with 20 fours as Tongala reached a handsome 4/279 off its 80 overs.
Coombs was involved in a stand of 115 with opener Jayden Tucker, who went on to make 59, and a 53-run partnership with Adam Nunn who made 25.
Then recruits Josh Thurston with an unbeaten 50, with nine fours, and Dylan Cunningham, with an aggressive 32 not out off 26 deliveries with three fours and a six, gave Tongala's score a late boost.
Tongala hosts Fire Brigade in a blockbuster clash starting this Saturday while Cooma tackles Rochester in another vital showdown.
Fire Brigade cruised to an easy win over Moama in the game at Kyabram's Northern Oval.
Chasing the Brigade's daunting score of 8/317, Moama looked on course to make a challenge at 1/86 but steadily lost wickets and finally fell for 186 in 61 overs.
Jayden Rosin did most damage with the ball for the Flames with his 13 overs reaping figures of 4/39.
Scott Morris was the other multiple wicket taker with 2/32 off 11 overs while skipper Brodie Unwin, Jesse Barker, Jack Barnett and Rob Salter all picked up a wicket.
Anthony McMahon, coming off a century in the previous game, was the mainstay of the Moama innings again with a brilliant 94 including 10 fours and a six.
In the other games, Echuca was up to the challenge of scoring 205 to beat Bamawm Lockington while reigning premier Rochester got a badly needed win against Echuca South.
Opener Tim Bubb produced his highest score of the season with a patient 83 while Colby Wade made 60 as Rochester rounded up South's respectable score of 9/191 in 75.5 overs.
Openers Matt Hinks and Fraser Buchanan built the foundation of Echuca's winning score of 6/208 against Bamawm Lockington United.
Hinks made 58 with 10 boundaries while Buchanan top-scored with 64 with six fours in an opening stand of 121.
Echuca meets Echuca South and BLU meets Moama in the round starting this Saturday.
B grade
Kyle Wheeler steered Girgarre to a win over Northern United in the most significant result in Saturday's one-day games.
Opening the innings, Wheeler plundered 93 with 10 fours and four sixes off 81 deliveries as Girgarre chased down United's score of 8/195.
Stanhope's batsmen weren't up to the 139-run chase needed to topple Fire Brigade, restricted to 9/125 in reply.
Young Bohden Learmonth topped scored with 37 for the Brigade while Jorge Maxwell with 5/20 starred with the ball for Stanhope.
Cooma held its spot in the top three positions on the ladder with a win over BLU in a low-scoring clash.
Opener Leon Scopilleti with 32 and an unfinished fifth-wicket stand of 53 between Ethan Hart and Justin Wickham, both with 24, ensured the Cooma win.
Moama's 6/223 was never challenged by Tongala, restricted to 9/102 of which opener Rhys Behrens made 38.
In the other game Rochester accounted for Echuca South.
C grade
The clash between Rochester and Stanhope was abandoned due to an injury to Rochester's Lewis Cleary for which an ambulance was called.
Rochester had made 185 and Stanhope was battling at 7/98 when the game was called off. Ashley Lucas with 46 had made almost half of Stanhope's score.
With Scott Hearn making 48 Fire Brigade was able to get up in a last-over thriller to get the points against Echuca Green.
Chris Cleveland with four wickets and Barty Carver with three victims did the damage with the ball for the Brigade.
Girgarre lost just two wickets rounding up Echuca's score of 136.
Openers Mark Scown (42 not out) and Billy Gahan (35) shared an opening stand of 126 and Darren George chipped in with 43 at first drop.
Rushworth could manage only 118 against Tongala but that was still enough to get the premiership points.
Sam Dearing with 23 was Rushworth's top scorer while Jon Beach with 39 held the Tongala innings together in the face of a top bowling spell from Kade Dearing who took 5/17 off his eight overs.
Moama's score of 7/231 wasn't seriously challenged by Cooma, out for 114 in 23.3 overs.
Adam Hubble held the Cooma innings together with 38 while super veteran Lackie Ranson's three wickets was the biggest individual haul in the game.
In the remaining game BLU had a decisive win over Northern United.
D grade
Fire Brigade went down to Echuca South despite knocks of 35 from opener Kaleb Williams and 33 from Jason Norman.
The Brigade posted 4/136 but South covered this score for the loss of four wickets in 31 overs.
Veterans Peter Raglus and David Baldwin helped Rushworth assemble 5/194, which Cooma never challenged, restricted to 8/93.
Raglus retired after making a half century and shared an 89-run second-wicket stand with John Baldwin who made 44. A new but not unfamiliar face in Goulburn Valley sporting circles, Pat
Rattray, also kept the Rushworth runs ticking over with 33.
BLU had the better of Echuca in the other game.