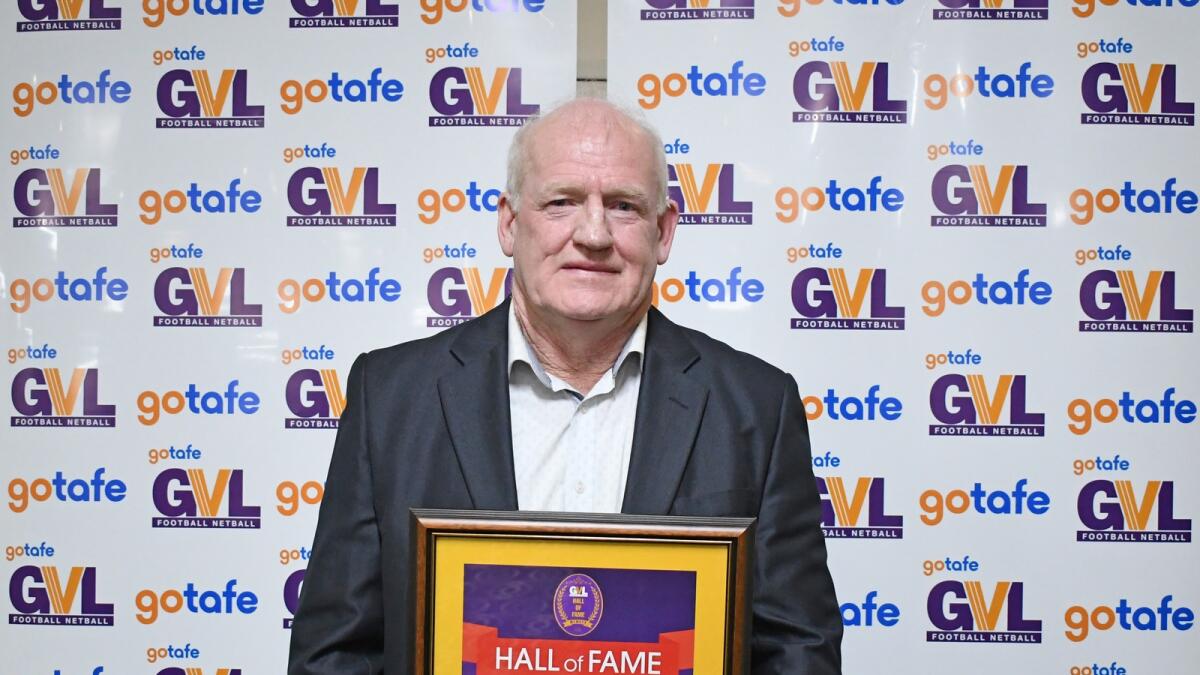 Kyabram Football Netball Club legend Lawrie Casey was one of six new inductees into the Goulburn Valley League's Hall Of Fame on Sunday night at a Shepparton function.
Another former player, Eric (Bub) James, who started his career with the Kyabram Football Club and went on to win two of the earliest Morrison Medals, was also bestowed with the honour.
The others inducted were former Mooroopna star Jeff Vandermeer, Euroa legend Scott Watson, Seymour stalwart Mick O'Donnell and Shepparton United and Shepparton Swans' Wayne Ford.
It has been well documented that no-one has given more to the Kyabram Football Club than Lawrie Casey, who already is a Bombers Hall of Famer and has also been given club Legend status.
Lawrie announced his arrival as a champion player when he played in a premiership side with Girgarre as a 16-year-old, then won the Kyabram and District League's best player award, the McNamara Medal, as a 17-year-old.
He was then recruited by the Kyabram Bombers and would become one of their best-ever players.
Over 14 seasons he played 224 games and kicked 222 goals, winning the club's best and fairest award on three occasions. He also coached the Bombers in 1988 and 1989.
Already a qualified Life Member of the GVL, Lawrie wore the purple and gold colours of the league on 12 occasions. He always performed well in the stronger company and was proud and honoured to be a GVL representative player.
He missed serving Kyabram in 1984 when he had a year in England playing cricket, a sport at which he also excelled.
He also had a season playing with Essendon and District Football League club Keilor, where he played in a premiership and won the club's best player award, even though he played just 11 games.
In 1990 he coached Riverina club Narrandera and in 1995 and 1996 he returned home to coach his home club, Girgarre.
Lawrie was then lured back to Kyabram as chairman of selectors and team selector, a task he carried out for the next 10 years.
Lawrie also answered the call from the GVL to be a selector for its Country Championship teams, a role he has performed for nine years. He has also been an assistant coach with Kyabram's under-18 team.
Lawrie is a dedicated student of the game, who is familiar with the strengths and weaknesses of all players and teams, which is why his opinions are sought.
• Long-time supporters of the Shepparton Football Club often claimed Eric James was the best small man that ever played for their club.
Eric was the youngest of seven brothers and two sisters. He was called "Bub" by his family, and the name stuck.
He grew up in Wyuna and then Kyabram where he was a watchmaker with F. C. Johns.
Small in stature, he played football with a number of his brothers with Kyabram.
He commenced his playing career with the Bombers as a 16-year-old and was a member of the 1928 premiership team that beat Shepparton.
He commenced the 1929 season with Kyabram but during the season was transferred to work in F. C. Johns' Shepparton store. He joined the Shepparton Football Club and was a force in Shepparton's premiership team against Kyabram that year.
In 1932 Eric was appointed vice-captain of Shepparton under coach Pat O'Connell, when it drew and then lost the grand final replay to Rushworth.
In 1933 Shepparton lost the grand final to Rushworth again but in 1934 with Eric starring the Maroons (now Bears) were premiers and champions again. Eric's cousin, Kyabram's Wilf Cox, won the first Morrison Medal ever awarded that year.
Shepparton was runner-up in 1935 and Eric won the first of his Morrison Medals, beating Cox by half a vote.
In the 1937 season Eric continued to star and won his second Morrison Medal. The Richmond club was keen to sign him but was unable to find him a job as a watchmaker.
In 1939 and 1940 Eric was deprived of the chance to win his third Morrison Medal when Shepparton withdrew from the league due to a dispute over playing on Saturdays instead of Wednesdays.
Eric transferred to play for a district league club at the time, Lemnos, and was in its 1940 premiership team.
Football was then abandoned due to World War II. Eric served in the Australian Army in the Middle East at El-Alamein and then New Guinea and Borneo during the war.
At the conclusion of the war, Eric returned to play for the re-formed Shepparton club in the newly named district League, the Central Goulburn Valley League. He duly won the Shepparton Advertiser Award for the fairest and best player in the competition in 1946.
Eric played out his football career with Shepparton and then concentrated on his jewellery business.
He died of war-related injuries at only 42 years of age.
One of his brothers, Billy James, is a famous VFL/AFL one-gamer for Richmond who in 1920 was plucked from Kyabram to play in the grand final against Collingwood. It was a memorable game, which etched his name into footy folklore as he kicked the winning goal and became the only player whose one and only game in the big time was in a premiership side.
A shooting accident in the summer months of that year in which he lost part of his foot ended his career with Richmond but he continued to play and hold administrative roles with the Kyabram club for several years.
Mangan blow for Ky
Kyabram Football Club's premiership quest has suffered a massive blow, with key forward Brad Mangan ruled out for at least another season.
Brad underwent ACL surgery on his left knee yesterday, just over 12 months after sustaining the same injury to his right knee.
Brad sustained last year's injury early in the season against Echuca and his latest setback in the clash against Euroa on May 21.
He had made his comeback in Kyabram's win over Seymour the previous week and emerged unscathed.
But in the Euroa game he said his knee ''felt a bit wonky'' at half-time. He played in the third quarter when he realised he was suffering the same symptoms as a year earlier.
Brad is the youngest player to have played seniors with Kyabram, making his debut at 14 years and seven months.
He was rookie listed by North Melbourne in 2012 when playing with its affiliate VFL club Werribee but never played a senior game with the AFL Kangaroos.
But he played a total of 100 games with Werribee and then another VFL club, Williamstown, before returning to play with his home club where he quickly established himself as one of the best power forwards in the league.
Despite the latest crushing setback, Brad will give himself every chance to play again.
"I'll be doing all the rehab and hopefully will get back playing early next year if everything goes okay. I'm not retired yet,'' the 31-year-old said.
Daicos stands with Saints
Berrigan Football Club will have a special guest at a function called The Last Saint Standing on Sunday, June 26.
Former Collingwood magician Peter Daicos will be the club's guest on the day, which starts at 11am
Tickets for the fundraiser are $100 and include lunch and three hours of refreshments.
Tocumwal honours greats
Tocumwal has named and honoured its first Hall Of Fame inductees.
They are Jim and Margaret Cullen, Albert James, Ernest 'Nugget' Fuller, Brian Kelly and Rob Crowe.