The Goulburn Valley League is in the process of updating the history of its thirds competition.
While it is documented it started in 1966, the competition actually started as an Under 17 competition in 1959 under the official title of Goulburn Valley League Thirds.
At that stage it was confined to western Goulburn River clubs because Shepparton- Mooroopna had junior competitions running at the time and were not in the inaugural competition.
League historian Don Kilgour plus former players and league stalwarts in Freddo McMahon and Ian 'Cactus' Howard have taken it on themselves to complete the update.
They have been assisted by Kyabram Historical Society's Eileen Sullivan who has been sourcing the information needed from the files of the Free Press.
The update was instigated by Russell Whyte, who won the first Pattison Medal playing for Tongala in the competition's inaugural 1959 season.
He had recently expressed disappointment to the league there was nothing on the GVL record books of his medal win or the early years of the competition.
The medal was struck in honour of Stanhope Football Club stalwart and GV footy legend Bert (Banjo) Pattison.
Some well known footy names are among the early medal winners and leading vote getters.
Whyte won the inaugural Pattison Medal by half a vote from Kyabram High School's Richard (Dick) Clay, who of course went on to be a GVL and Richmond great who played in four premiership sides with the Tigers.
The second Pattison Medallist was Tatura Rovers' Graham Crowley, who was a fine schoolboy athlete at Kyabram High School.
Tatura Rovers were basically a team of Merrigum-based players, and Tatura Football Club also fielded a side in the competition at the time.
Other towns and teams represented were Kyabram, which had a team from both the high school as well as the Kyabram Youth Club, and Stanhope, Rushworth and Murchison.
In 1961 the Pattison Medallist was Stanhope's Ian (Mick) McDonald while in 1962 Ky Youth Club's Frank Fanning claimed the award. Frank went on to play two games with Footscray (Western Bulldogs) in 1966.
Tongala had its second Pattison Medallist in 1963 when Ron Popple claimed the award by one vote from Kyabram High School's Lindsay Wickham and Col McMaster who dead-heated for second with Youth Club's Chris Salter a vote away third and Stanhope's P. Cartwright fourth.
The seasons 1964 and 1965 belonged to Tatura's Alan Gale, who won the medal in both years.
In 1964, Gale, with 25 votes, claimed the medal by three votes from Youth Club's Geoff Cox, with Ky High School's Ross Dillon third, Tongala's Murray Cox fourth and Rushworth's Ross Williams fifth.
Dillon went on to play with Melbourne in the VFL and Norwood in the South Australian National Football League, and had the honour of representing both Victoria and South Australia in his illustrious career.
Premiers in the initial competition were Tongala in 1959, Kyabram High School 1960, Tongala 1961, Tatura 1962, Tatura 1963 and Tongala 1964.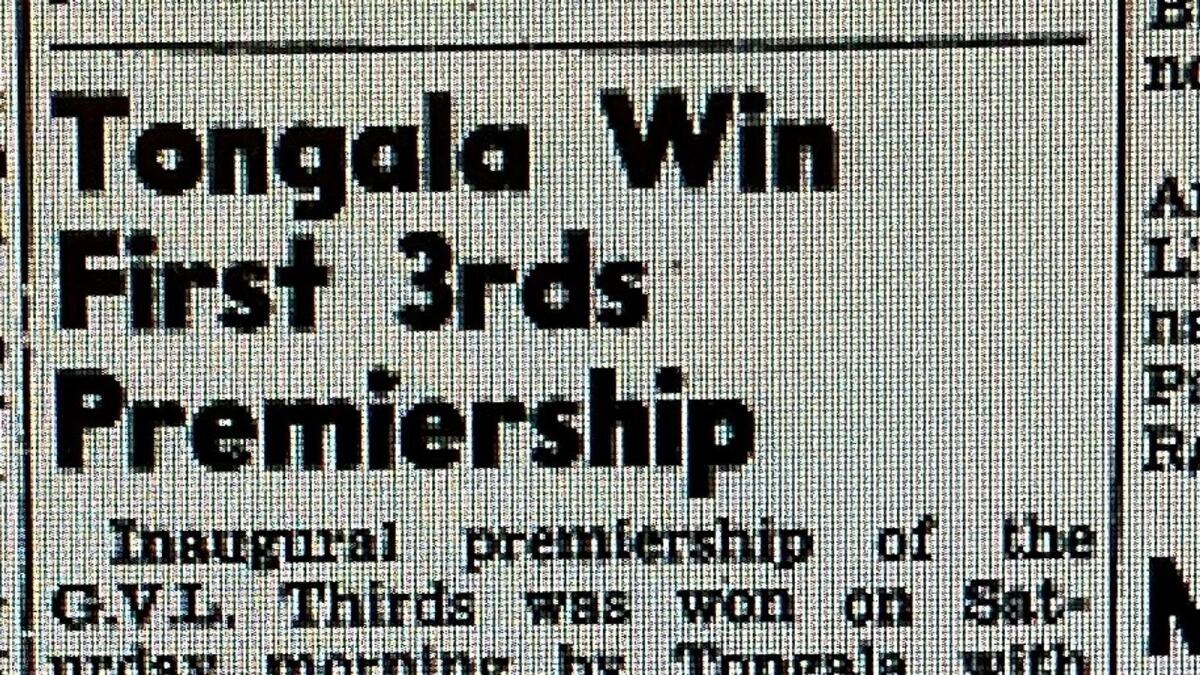 When the Shepparton-Mooroopna sides came into the competition in 1965 Alan Gale again claimed the medal and the merged Kyabram High School and Kyabram Youth Club teams won the premiership, coming from behind in the last quarter and into the wind to beat Lemnos (now Shepp Swans).
Kyabram again won the flag in 1966 with an eight-point win over Lemnos.
Kyabram also had the Pattison Medallist of that season, Paul Rowlands, who went on to play 38 games with Melbourne Football Club in 1969-70.
Rowlands won the medal as a ruckman and played in defence for Melbourne.
Both the 1965 and 1966 premiership sides were coached by John Roberts.
Pain in the leg
The Kyabram Football Club senior list is literally hamstrung at the moment, with no fewer than six players sidelined with hamstring injuries.
Veteran star Kayne Pettifer added his name to the growing list after a recurrence of a hammy pull on his return to the side against Seymour on Saturday.
Other players sidelined with hamstring injuries are Mitch Gugliotti, Riley Ironside, Brad Whitford and James Ross.
Premiership player Hayden Gemmill, who has not played this season, is also recovering from a pulled hamstring.
Echuca hits back hard
Shepparton copped the brunt of a fired up Echuca in Saturday's round of GVL games.
The Murray Bombers were smarting for losing their appeal against having the premiership points stripped from them for playing ineligible players in both senior and reserves against Rochester in the GVL's opening round.
Co-coach of Echuca Simon Maddox said his team had a point to prove and went out and destroyed Shepparton by 156 points despite having stars in co-coach Andrew Walker and ruck duo Kane Morris and Liam Tenace sidelined with injury.
The win was even sweeter as it was sponsors day for the club.
Sweet sixteen (or 18)
The confusion over player numbers in the GVL reserves competition has been resolved.
Although originally to be a 16-player a side competition this season to help several clubs struggling with numbers, there can be a full complement of players if both clubs agree.
But if one club doesn't have enough players and wants a 16-player side the other club has to adhere to its request.
Ky great at Sunshine
Kyabram Football Club great Chris Atkins has taken the reins of Sunshine Football Club in the Western Region Football League in Melbourne's west.
Chris was elevated to coach after former Collingwood player Heath Scotland resigned last week.
Unfortunately Chris didn't celebrate his first game in the role with a win, with Sunshine suffering a heavy loss to Spotswood.
Sunshine has won just one of its six games, so Chris has a challenge in front of him.
GVL shake-up at the top
Goulburn Valley League president David Roff has taken three months' leave of absence, which has caused a reshuffle of executive positions.
GVL netball stalwart and board member Jacqui Hudgson has moved up to acting president while Freddo McMahon takes on the role as deputy chair. Hudgson was Roff's deputy.
Roff has stated he will be focusing on other priorities during his absence.
Mare shows her strength
Kyabram trainer Paul Fidge has notched his third win from six starts since taking back the training reins of pacing mare Imperials Reason.
The latest win was achieved at Sunday night's Cranbourne meeting when the four-year-old daughter of For A Reason put up a tough run to outclass her rivals.
Driven by Ryan Sanderson, Imperials Reason had to work early from the second row to get outside the pacemaker where she had to race for the last lap over the 2080m trip, drawing clear of her rivals in the concluding stages in a PB 1.58.0 mile rate.
Imperials Reason had only one win from 19 starts, including a stint in Sydney, before returning to the Fidge stables at Kyabram, where she obviously likes being.