Senior Nats rally around Birrell after funding re-announcement derailed by cancelled train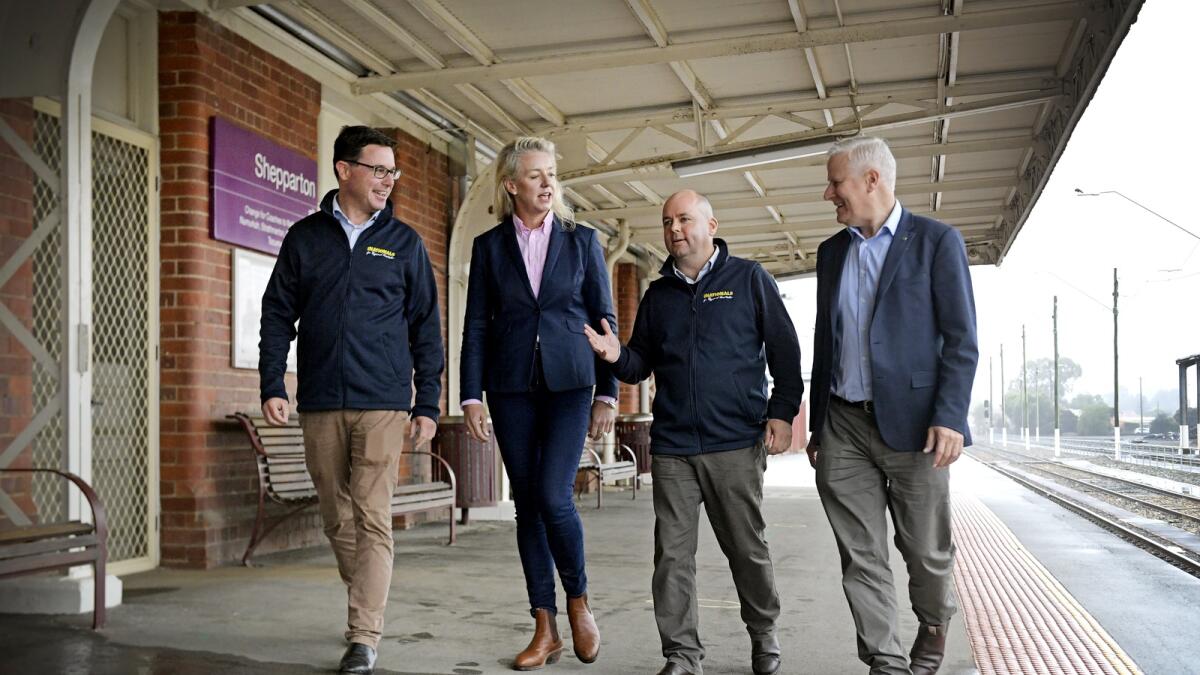 The stage was set for a classic election stunt — three senior Nationals members ready to jump off the train at Shepparton Station alongside Nationals candidate Sam Birrell to show off their 'track record' on delivering for regional rail.
However, the plan was derailed when former deputy prime minister Michael McCormack, Senator Bridget McKenzie and current deputy Nationals leader David Littleproud joined Mr Birrell at Mooroopna Station only to find the 12.14pm Shepparton service cancelled.
After arriving at Shepparton by car, Mr Birrell didn't announce any new funding, instead spruiking $320 million of rail funding the Commonwealth had allocated to the third stage of the Shepparton Passenger Rail Upgrade two years ago as part of the 2020-21 budget.
He said the project had been delivered during lockdowns and that Mr McCormack, who was deputy prime minister at the time of the funding announcement, was in Shepparton to show that the Nationals delivered for regional Victoria.
"We all know Shepparton railway travel has been a real bugbear of our community and we weren't getting our fair share compared to some other regional cities," Mr Birrell said, standing on an empty platform.
"But now, thanks to the Federal Government, we've got this stage three, which will get us the number of services we need, which increases the flexibility for people to be able to move between Shepperton and Melbourne."
The senior Nationals members said they "don't take any seat for granted" on their visit to Nicholls to support Mr Birrell as the first week of pre-polling draws to a close.
Their visit is one of a long string of appearances by senior government officials who have made their way to the region over the course of the election campaign.
Mr McCormack didn't mention the rail funding in his brief remarks, instead speaking about Mr Birrell's quest to become the next member for Nicholls.
"As we've driven around this great region of Victoria you can see the delivery the Nationals have done,'' he said.
"My encouragement, my urging to voters is don't take any risks. Don't risk instability.
"Make sure we get Sam into government into this seat because it's going to be so important for jobs for putting downward pressure on cost of living and for everything else."
Senator McKenzie said everyone in the Nationals wanted to ensure Mr Birrell was in Canberra for the next term, but added "we don't take any seat for granted".
"We (visit seats) every election. We get on the ground, we speak to locals and we put our proposition, what we want to do for them and we have a plan for rural and regional Australia," she said.
"You need to have somebody at the heart of Federal Government to not just make the decisions but make sure that those who hold the purse strings are held accountable, that this region gets the funding that it needs and deserves.''